Posted by: Adhika | Posted on: February 21st, 2013 | No Comments
Amitabh Bachchan announces new mobile voice app to interact with fans
Amitabh Bachchan plans to stay connected to his fans through a mobile application.
According to NDTV, the digital app named 'Bubbly' will allow the Bol Bachchanstar to leave voice messages for his fans, who will also be able to send messages to him.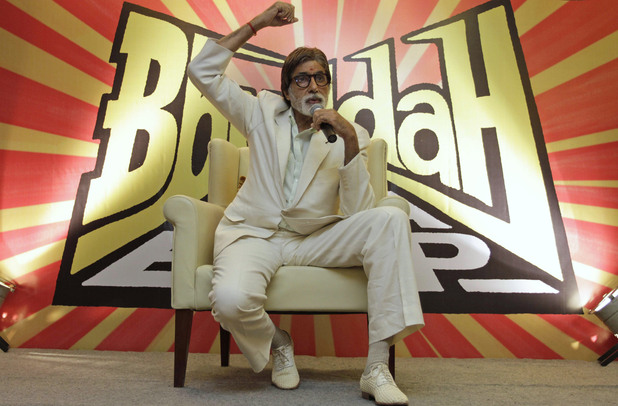 © PA Images / Ajit Solanki/AP
Writing about the development on Twitter, Bachchan said: "ALRIGHT! Now an App developed by digital team, by which you can hear my VOG (a kind of voice blog), and send me a voice message, which I can respond.
"Right now its called BUBBLY, and its for Android and iPhone mobiles. Soon on other facilities too, so i can talk back to you."
The actor added that the facility is active and should enable him to interact with fans around the world.
"Oh ! heck ! Its already operational.. BUBBLY i mean .. okkaaayy ! Lovely to know this .. shall be more connective now and respond !
"I presume it works in Israel too… its universal. Do try and let me know… else I shall check with team," he tweeted.
The 70-year-old star has a strong presence on several social media platforms including Facebook and Tumblr, and has become the most followed Indian celebrity on Twitter.
Photo gallery – Amitabh Bachchan's recent life and career in pictures: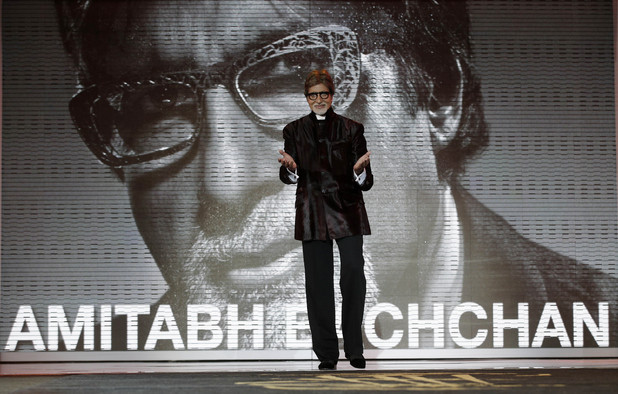 Amitabh Bachchan arrives for the Tribute to Hindi Cinema at the Marrakech International Film Festival in December 2012
The legendary actor will do updates under new sections on Facebook – Tuesday Memoir and Wednesday Words – and also on the mobile platform. We wonder why he's getting so active on social networking sites and voice blogs
Amitabh Bachchan truly believes in being with the times. The actor has really caught on to the social networking phenomenon. Despite his hectic schedule, he now plans to post daily updates under new sections he launched on his facebook profile yesterday and today, called Tuesday Memoir and Wednesday Words. Posting an old black and white print from his film Khoon Pasina, Big B said on February 12, "Beginning Today – Every Tuesday will feature a Nostalgic Picture with a short story around it for my Fans. This will be called : "Tuesday Memoir"Today's Pic : Photo during the shoot of a scene with a live tiger that I had to fight in film 'Khoon Pasina'.
Story: The shooting was done at Chandivali Outdoor Studios in Mumbai ..
During the shoot I got the news of Abhishek's birth at Breach Candy Hospital , and I stopped the shoot and rushed there ..
Everyone on set commented as I left .. "agar beta hua toh uska naam Tiger rakhna" !! Ha ha !
For long years till I think he was 4 or 5 years old I would call him Tiger when I would call from locations on phone, and Abhishek thinking that since the talk was on animals, he needed to be speaking the same language … So when I would call and say ..
" Hi Tiger, how you doin' ? He would respond ..
" Hi Panther, I am fine "!!
Some visitors to the house who were listening to this tete a tete would often comment in amazement –
"Yeh apne baap se baat kar raha hai "??
– Amitabh Bachchan."
Cute! And today, the actor launched Wednesday Words, with, "Wonderful Response on the "Tuesday Memoir" ! – Today is Wednesday and going ahead every week this page will feature poems. This will be "Wednesday Words"…" Here's the picture and the poem.
What's more, Big B will also be available on a mobile application or a VOG, called Bubbly, where fans can hear his voice and also post text messages for the star. He announced yesterday, "And now down load an App., BUBBLY and you can listen in to my VOG, my voice message each day and leave a voice message for me too, which I can respond to as well .. there is opportunity to leave text message too in the App."
It should be fascinating to get a glimpse in to the life and times of Bachchan through his own updates. But why is the thespian getting so much more active on Facebook now? Of course, he has been blogging, tweeting and sharing things on FB every day – two or three times a day, in fact. Do fans need or even want any more of him? Or is it that post Kaun Banega Crorepati 6 and between film shoots, daily soap, endorsements and event appearances, the ageing superstar still has enough time and energy to do a daily blog and daily columns?
Anecdotes, nostalgic pictures, thoughts and poems from a Bollywood legend will only double his Facebook friends, we think. But for now, we're wondering what new column Big B will start tomorrow – Thursday Thunder, perhaps?
Special thanks to Digital Spy and Bollywoodlife.com for this content. please join us our facebook family at Prem United to post your comments and read story updates!
You may also like the following