Posted by: Adhika | Posted on: April 8th, 2017 | No Comments
Actress says she was at Neerja shooting spot when news trickled in

Sonam Kapoor
You remember the last scene in 'Neerja' where we showed her ashes being scattered? I am at the same spot now," exclaims Sonam Kapoor as she receives news that she is winning national award news from the acclaimed biopic on braveheart Neerja Bhanot bagged the Best Hindi Film honour. The actress, who is shooting for Akshay Kumar-starrer 'Padman' in Maheswar (Madhya Pradesh), also got a special mention for her performance in the gritty biopic.
Evidently overwhelmed by the news, Sonam admits she is "very shocked". "Initially, I didn't understand what the award was for. Then Anupam [Kher, actor] uncle told me he'd won it for Saaransh (1984) and Daddy (1990), and that the jury award is the most coveted honour. I am grateful to the Bhanots, (director) Ram Madhvani and team Neerja for believing in me."
She believes the best way to celebrate is to work and says her family is ecstatic. "Dad (Anil Kapoor) has been my guiding light; he said he'll accompany me to the awards function as my date."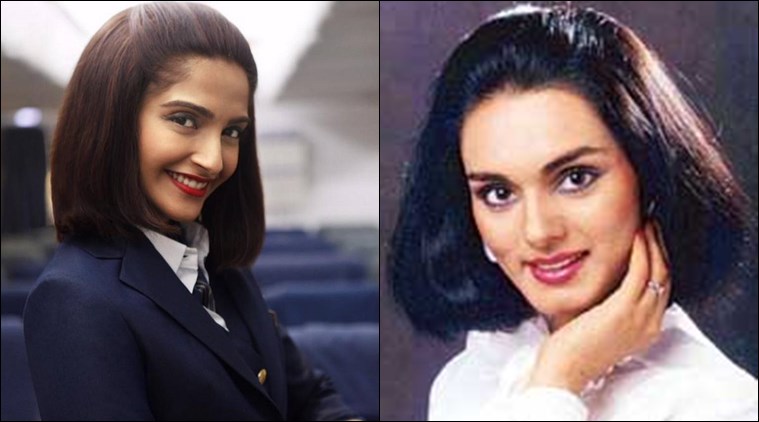 Sonam Kapoor played Neerja Bhanot in Ram Madhvani's Neerja film.Celebrating the first anniversary of Neerja, Sonam Kapoor, who played the titular character in the biopic, shared two poster looks from the film. Along with the pictures, she wrote that Neerja has taught her to be fearless. "We all have fears, I have several and I only learnt how to acknowledge my fears and to conquer them because of Neerja. This movie changed my life. As Rajesh Khanna's character Anand says " zindagi lambi nahi badi honi chahiye". I hope my life means something and I hope I let go of my fears and learn to appreciate and enjoy what I have. I'm grateful for everything," the actor wrote.
File photo of Neerja Bhanot.
The movie of Neerja is based on the bravery that Neerja Bhanot displayed to save the passengers involved in a real life hijacking:
The Pan Am Flight 73 on its way from Mumbai to New York via Karachi and Frankfurt was hijacked on September 5, 1986. Four terrorists in the guise of airport security staff entered the aircraft in Karachi. Twenty of the 380 flyers were killed. Of the 13 passengers from Karnataka, two died and four were injured. The siege ended when the hijackers opened fire on the captives who fled through the emergency exit. Neerja, who was shot by the leader of the terrorist group, is said to have played a pivotal role in the survival of many.
You may also like the following